How To Check And Download Karnataka Caste and Income Status
How To Check And Download Karnataka Caste and Income Status Now people can download and check Karnataka caste certificate, income certificate, and application status online. The government of Karnataka launched Nadakacheri Atalji Janasnehi Kendra which provides the status of income certification online, print caste certificate online and print income certificate online.
To check the application status of the Nadakacheri income & caste certificate online, click on the Application Status link which is available at the official website. Apart from the income and caste, people can also check Nadakacheri marriage certificate status, Residence certificate status, domicile certificate application status
[wp_ad_camp_1]
This article will guide you on how to check and download Karnataka caste and income certificate online through the Nadakacheri Karnataka portal, let's have a look
Process To Check Karnataka Caste and Income Certificate Application
Click on the "Application Status"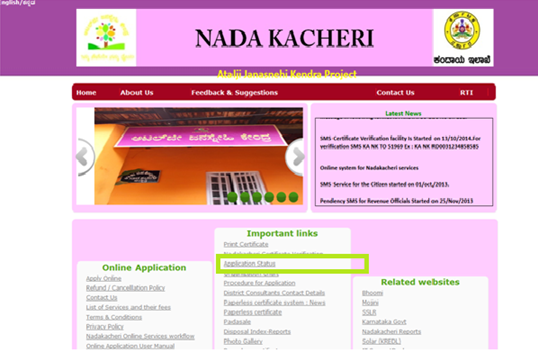 Enter your Acknowledgment Number and
Click on status
That's it!! Your application status will be displayed on the screen
The process to Download / Print Karnataka Caste and Income Certificate
Click on the "print certificate"
Enter your Acknowledgement No
Click on show certificate
Your certificate will appear on the screen, click on "Print"
Click allow the pop-ups
That's it Take print or Download certificate
Process for Karnataka Nadakacheri Certificate Verification:
[wp_ad_camp_2]
Go to the Nadakacheri Karnataka portal or click on the link here http://www.nadakacheri.karnataka.gov.in/. The page will appear as shown below
Click on Nadakacheri certificate verification as shown
Enter your Acknowledgment No and click on Read Barcode
Click on show certificate
Your certificate will be displayed on the screen
Here ends the process to check status and download of income certificate, caste certificate and verification of cast certificate. I hope it helps to you. Please share your suggestions and experiences with us.